Basements are often blank canvases that can be adapted to meet your needs. If you're considering a basement renovation, here are some ideas to get you started designing a space that is not only functional, but fabulous!
---
Give your hobbies the space they deserve
Home renovations are about truly making the space yours. Working with a full service renovator to ensure the design supports your hobbies will achieve exactly that. Do you like refurbishing vintage bikes? Customize a home bike shop with creative wall storage. Are you into acrobatic yoga with hanging silk? Install a hanging set-up and padded flooring. Do you have an epic comic book collection? Create a custom display, shelving, and a cozy reading nook. Are you an aspiring musician? Installing sound absorbing or sound-proof systems will let you jam out for hours without bothering anyone. The options are endless.

Finalist in the 2022 CHBA National Awards for Housing Excellence, "Modern Makeoverr" by RenoMark member Novak Contracting & Construction Ltd. in Surrey, BC
Get your game on
Whether its foosball, pool, table tennis, foam dart boards or air hockey, your basement can be the place where people gather to engage in some friendly competition. In a renovation, you can plan where you'd like your game equipment to be installed and design the space around to enhance it. Consider hanging light fixtures above pool tables and installing recessed storage for equipment.

Winner of the Best Renovated Space category in the 2021 CHBA National Awards for Housing Excellence, "Fast Cars, Whiskey, and Rock & Roll Basement" by RenoMark member Ultimate Homes & Renovations in Calgary, AB
Surround-sound home theatre
If you prefer to keep your living rooms and bedrooms screen-free, going all out with your home theatre will make every time you watch tv and movies an experience. Consider installing raised theatre seating with supremely comfortable chairs or couches. Installing pot lights or LED lighting, painting the walls and ceilings a dark colour, and decorating with cinema posters and jars of snack food will instantly transform your basement to feel like you're actually at the movies.

This cozy media room was done by RenoMark member Schreyer Construction Ltd. from Whistler, BC.
Design a haven for out-of-towners
There is something easy and comforting about staying in a guest bedroom in the basement. You are slightly secluded from the rest of the house and can feel safely tucked away. When designing a guest bedroom, you can push the limits of creativity and emulate a boutique hotel. Experiment with bolder colours, statement lighting and artwork you like to look at but don't need to see every day. Installing a private bathroom with a shower is a great addition for guests. Bonus points if it can feel like a spa getaway.
Exit to the outdoors
Depending on your basement design, you may want to integrate your basement renovation to allow for a connection to the outdoors, especially if you entertain in both your basement and backyard. If your basement is a walk-out or daylight style, this will likely already exist and you can consider upgrading to modern folding glass doors to create a combined indoor and outdoor space. If your basement is below ground, an egress door adds an additional exit in case of emergency, with the bonus of adding light to the space. Read more in our inspiring outdoor space ideas for Canadian homes blog post.

Finalist in the 2021 CHBA National Awards for Housing Excellence, "CARLING – Walkout Makeover" by RenoMark member Amsted Design Build in Ottawa, ON, features plenty of natural light, stunning views, and a sauna.
BYOB (Booze up Your Own Basement)
Basements make for a great location to install a wine cellar, home bar or space to get creative making cocktails. If you're installing a bar, you'll want to begin by deciding if it will be dry or wet, a.k.a. if you'll need a sink or not. Then you can gain design inspiration from your favourite cocktail bars, speakeasies, and endless cool home bar inspiration on Pinterest. There is a ton of creativity to be had in the way you display bottles, glasses, and garnishes. Custom cabinetry, layered lighting and mirrors can instantly add class to your watering hole. Don't forget about storage, countertop space, and seating.
Stretching space and home gym
Whether you work out daily, or daily for the first two weeks of each year, creating a space for movement is a great use of a basement. Installing any equipment for fitness is much easier with the support of a renovator who can ensure your workouts will be safe and well ventilated. When designing this space, consider if you'd like to add mirrors or any unique technology. Virtual reality games for fitness are becoming increasingly popular. Adding a screen and speakers will let you enhance your workout with music or instructional videos.

This basement gym by RenoMark member Morgan Quality Homes in Ottawa, ON has plenty of space to move, functional flooring, and a shower.
Let the kids decide
If you envision your kids or teenagers spending a lot of time downstairs, ask for their input and creativity when deciding what to do with the space. Letting them take the lead on design, within reason, can help them put their collaboration and leadership skills to the test. And hey, if they're naturals at design or interested in construction, Canada has a surplus of well-paid job opportunities coming in the next decade.
A secret room
You may have seen them in viral videos. It's a bookshelf? No! It's a door! Depending on your space you can discuss with your renovator about the possibility of designing a room hidden away. It could be the door to your home theatre, a library, or hidden potions/cocktail room. You can disguise the entrance behind the classic bookshelf, or get creative and try hiding it behind panelling or wainscotting, a massive piece of art, or hidden in plain sight amongst a dynamic wallpaper mural.

This basement renovation by RenoMark member Just Basements in Ottawa, ON strategically uses curtains as a room divider that also provides warmth and a pop of colour.
A basement apartment
If you have a family member in need of a space to stay or you hope to make some extra income through renting, a basement apartment could be a great investment for you. Before undergoing a renovation, check if your municipal zoning allows for you to have an apartment. This is likely the largest and most expensive endeavour on the list and we highly encourage you to consult a professional renovator who can give you the most cost effective advice. A great basement apartment has functional living space, an exterior exit, independent heating and cooling, electrical and plumbing, and is a completely finished space.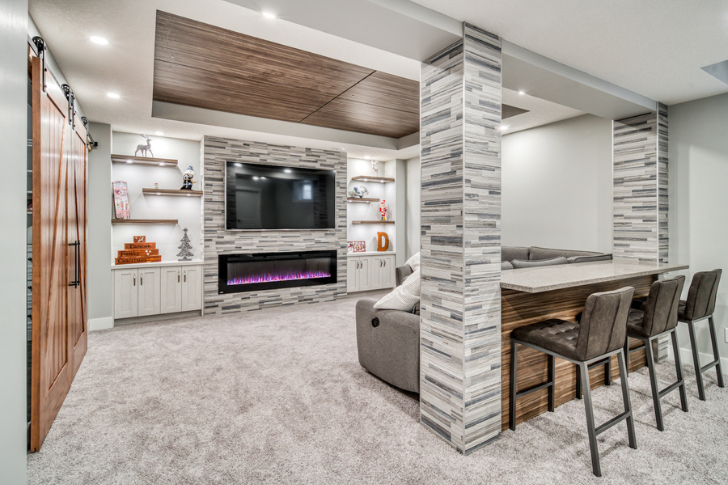 Great lighting, storage, and places for relaxing and for eating are featured in this renovation by RenoMark member Turn Key Renovations & Contracting Inc. in Calgary, AB
What not to put in your basement?
While yes, your basement can be any space your heart desires, here are some ideas we'd encourage you to weigh the pros and cons on.
Laundry room
Traditionally, laundry rooms are installed in the basement for many logical reasons, like susceptibility to flooding, noise reduction and space to fold, sort and organize. However, most laundry comes from items that are stored upstairs, like clothes, sheets and towels. Unless you're looking for ways to get your steps in, save yourself the time and energy by installing laundry above ground. Consider installing anti-vibration pads to reduce movement and stabilize your washer. If you are worried about flooding, consider installing a leak detector that is either capable of notifying you of a leak or shutting off the water valve. Read more about reducing risk of water damage here.
All your old furniture
There's a reason you're getting rid of that couch or that table or that chair. Furniture that no longer has a use or that you hate looking at does not make for a welcoming basement. That doesn't mean you have to break the bank and purchasing new or expensive furniture. Consider buying second hand, and focus on comfort. Big sectionals, bean bag chairs, comfortable recliners or poufs are very comfortable options! Add style back in with soft and trendy throw blankets.
Now that you've imagined everything your basement could become, consider starting a conversation with a local renovator from RenoMark'sprofessional directory.
If you're interested in reading more about basement renovations check out our other posts: